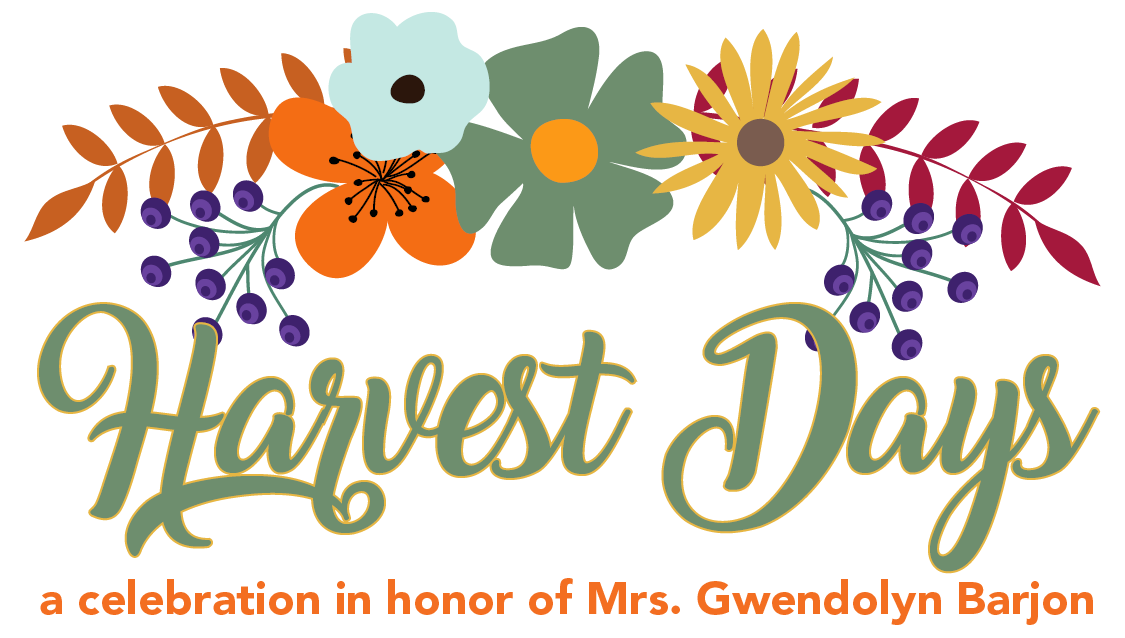 KICK-OFF & MURAL UNVEILING
Friday, September 25 | 9am-10am | Gwen's Garden (1601 Panama Place)
Friday, September 25th would have been Mrs. Barjon's birthday. We want to honor and celebrate the life of Mrs. Barjon with a Harvest Day Celebration. The Harvest Day celebration is an opportunity for those who knew and loved Mrs. Barjon to take time out of their day to join in the garden at SPSCC and participate in harvesting activities that would be representative of what Mrs. Barjon taught, shared and enjoyed.
Please bring with you a gift of fresh produce that can be donated to our food pantry or seeds/seedlings that can be used for our garden. (Requested items are listed below.) A drop-off box for produce and food donations will be placed at the front of the school through October 2nd.
Fresh Produce
oranges
bananas
peaches
plums
grapes
strawberries
cabbage
potatoes
lettuce
collard greens
broccoli
tomatoes
okra
Seeds
lettuce
cabbage
kale
chard
radish
beets
carrots
parsnips
turnip
RSVP by Wednesday, September 23rd here.
PLEASE NOTE: This event will be held outdoors. Face masks are required at all times. Attendance will be limited to ensure proper social distancing. RSVP is required.
About the Garden
The St. Philip's School and Community Center garden is now known as "Gwen's Garden," in memory of faculty member, the late Mrs. Gwendolyn Barjon. The garden provides fresh, organic vegetables to Aunt Bette's Community Pantry. Students, teachers, and volunteers plant and harvest these vegetables with the hopes of providing nourishment to those who would not otherwise have access to fresh, organic food.
Volunteer in the Garden
The task of keeping the garden in constant motion requires several hours of labor. In addition to planting and harvesting, the garden must be routinely maintained, and that's where you can help. Volunteers are needed to weed, plant, harvest, and perform any other duties which lend themselves to the upkeep and general beautification of the garden. Volunteer days are generally the first Saturday of the month, but we sometimes have opportunities available on other days.
Sign up to volunteer here.