Aunt Bette's community Pantry is a client-choice food pantry located in the heart of South Dallas which provides quality food items to hungry individuals and families. This program supplies critical nutrition to households experiencing food insecurity.

Enrollment is closed until February 2024.
Visitors from any zip code or clients without an appointment are welcome to stop by during hours of operation and receive a limited supply of emergency food.
Aunt Bette's Community Pantry serves residents from the 75210, 75203 and 75215 zip codes. Contact 214-753-5600 for more information or to schedule an enrollment appointment.
Volunteers are currently needed for client service and pantry stocking shifts. Volunteer Slots are available on Mondays and Wednesdays from 7:45 am - 11:45 am, Tuesdays from 9:00 am - 12:00 pm and 1:00 pm - 4:45 pm, and Thursdays from 9:00 am - 12:00 pm. For information and to sign up, click here.
Aunt Bette's community pantry HISTORY
A 2017 Healthy Food Dallas report found that almost 20% of the Dallas County population faces food insecurity, lacking transportation and affordable access to nutritionally balanced food, including fruit and vegetables. The South Dallas community St. Philip's calls home is a designated food desert. A high concentration of those vulnerable to hunger reside in St. Philip's key Community Center service areas – 75215, 75203 and 75210. Additionally, South Dallas boasts a poverty rate higher than 40% and a 20% unemployment rate, further contributing to poor health outcomes for many residents, such as obesity, diabetes and other diet-related health problems.
St. Philip's established a food pantry on its campus over a decade ago in an effort to expand its hunger programming reach to include more families and children. By 2013, the pantry, which operated out of a small space on St. Philip's campus, shared with the Meals on Wheels Depot, was serving up to 200 individuals a month. Clients lined up outside the facility to receive pre-bagged canned goods and very little fresh food twice a month that St. Philip's secured through North Texas Food Bank, its own food drives, and a community garden. St. Philip's was meeting a need but there was little dignity to this process for clients.
The establishment of Our Community Pantry in 2015, was a direct result of an unprecedented collaboration between city, corporate, and non-profit entities, including St. Philip's, North Texas Food Bank, In the City for Good, and the City of Dallas, provided an opportunity to revolutionize the way Hunger is addressed in South Dallas, and beyond. The food pantry operates as a client-choice pantry, much like a grocery store, and currently serves over 750 households, 1,750 individuals, and distributes over 700,000 pounds of food annually!
In July 2019, the operation and management of Our Community Pantry fully transitioned to St. Philip's School & Community Center. This is exciting news, made even more so by the continuation of our wonderful partnership with North Texas Food Bank. In September 2019, the food pantry was renamed Aunt Bette's Community Pantry in honor of a life-long steward of service. In 1989, Bette Perot volunteered with St. Philip's' very first food pantry which operated out of a small storage room at the time. When Mrs. Perot began her volunteer service, she recognized the space was inadequate and thus she purchased shelving that still exists in this location today, now utilized solely by St. Philip's MEALS ON WHEELS program. Bette Perot has spent her life addressing hunger in our communities and has consistently supported organizations who do the same. In honor of her birthday this year, the Perot family funded the renaming of Our Community Pantry in their Aunt Bette's honor.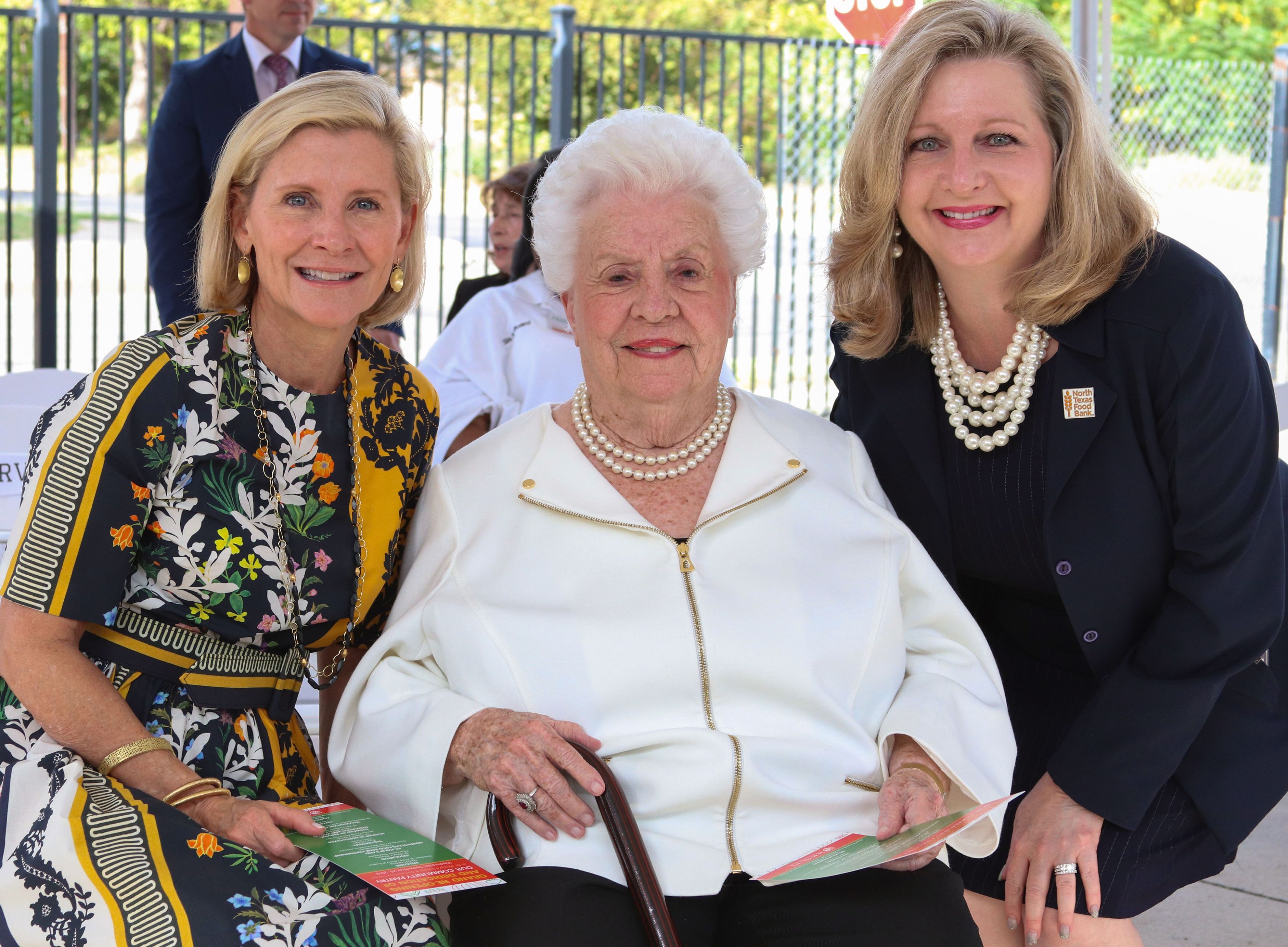 "Aunt" Bette Perot was a life-long ambassador in the fight against hunger and the namesake for our very own impactful community pantry. It was a tremendous privilege to have the Perot family honor Aunt Bette with a very special birthday gift in 2019…that being $2 million to St. Philip's' We Believe Campaign to endow the community pantry and help sustain its future.
Bette Perot's dedication to hunger relief is astounding, as she was instrumental in the founding of North Texas Food Bank, one of our long-standing community partners and she personally planted the seeds for St. Philip's first food pantry over twenty years ago.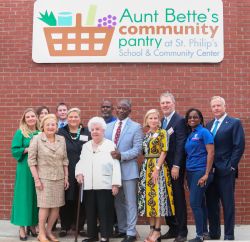 Through Aunt Bette and now, her legacy, the Perot family will continue to positively affect the lives of tens of thousands of neighbors and fellow citizens facing food insecurity for decades to come.
We're relocating!
The pantry will be closed to clients July 10th-31st. Beginning July 10th, the pantry's volunteer hours of operation are as follows:
Monday through Friday 9:00 am - 12:00 pm