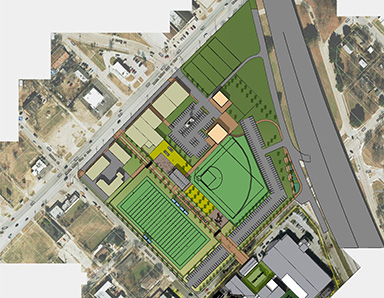 Beyond physical strength, athletic programs teach teamwork, sportsmanship, and strategic thinking. It is crucial for students searching for athletic success combined with innovative education and community services, to have access to facilities that support their passions. Prior to the global pandemic, we served over 500 children through athletics with the expectation that the number would double with the expanded fields and park.
This project will position St. Philip's for future growth. As well, the fields and park will be designed to house entertainment events space for rental. The additional income opportunities create sustainable funding for maintenance of the fields and park long-term.
"My success is due in part to the seeds that were planted here at St. Philip's."
– former Saint, Edward Turner, who grew up in South Dallas, attended TSU on a baseball scholarship and currently works as Director of Community Engagement with Communities in Schools, Dallas Region.