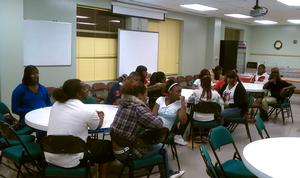 Who: College Bound
When: Every Tuesday and Thursday from 6:00-8:00pm
Program Objective(s):
The objective of the program is to prepare high school students for successful application to a four – year college or university. The following areas will be addressed in order to accomplish objective:

Computer Preparation – Each participant will learn the basics in computer technology in order to learn how to properly attach documents for emailing, formatting word documents in order to compile resumes, business letters, and essays.
Test Preparation – Participants will have an opportunity to increase their test-taking skills on college admission tests such as the ACT and SAT. Students will take two practice tests administered by Princeton Review and receive feedback on the tests taken. In addition, students will be required to schedule for the actual SAT or ACT summer test date or the October test date.
Essay Writing – Participants must complete three college essays according to the standard essay topics included in the Apply Texas application. The rationale is to have students prepare a framework of essays that can be used for college admissions and possible scholarship applications.
Math Tutoring – Participants will receive assistance in core math courses such as Algebra I, Algebra II and Geometry.
College Success – These sessions will provide participants with assistance in note taking, time management, and organization in order to survive college.
Financial Aid/Scholarship – Participants will receive information on completing FAFSA and scholarship leads. In addition, participants are expected to apply for the required PIN number to be associated with their application for student financial aid. Incorporated into this portion are presentations from representatives from TGSL and other banking institutions to inform students on various options to fund their education.
Application Packet – Participants will complete the computer-based application with Apply Texas and/or Common Application for their college admissions. Prior to completing this portion students will be required to bring a recent transcript and will also compile a student resume.
Parent Prep – Parents of participants of the program will be required to participate in weekly meetings in order to provide them with the appropriate information regarding the college admission process. These sessions will include the application process, financial aid, and college search process.
Campus Tours – Students will have the opportunity to participate in campus tours to colleges and universities.